Expert Development
Perfection through practice!
Our training programs for experts are designed for one purpose only: to boost specific competencies through practice and exercise. Training sessions are developed around adult learning principles and follow the latest trends in each of the topics they focus on. Some of our key programs for experts are:
Assertive communication – Assertiveness will encourage employees to communicate more effectively – to clearly and directly express what they think, feel and want, to stand for their rights while taking into account and respecting other people's rights.
Presentation skills – This training will help employees to learn how to effectively present with maximum impact on their audience.
Facilitation skills – This program will help participants to understand the basic principles of effective meeting facilitation, to learn and to make commitments about what they will improve.
To see all our expert programs, click here.
Learning & Development Services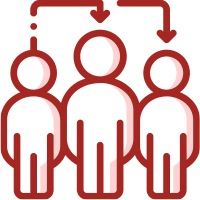 Leadership
Find out more about our specific programs and learning experiences from our offer.
Learn more