Leadership
Perfection through practice!
Leadership
There are two crucial dimensions in our leadership programs design: seniority level and leader's readiness to be challenged. Based on those two lines, we have created several programs aiming to accelerate development and bring maximum value to participants. Some of our key leadership programs are:
First time leader– The program aims to support successful onboarding into a new leadership role as a leader of others and make a fundamental mindset shift needed for lasting changes in leadership/management behavior.
LEAP program– is a program for leaders that are preparing to take the next step in their career. The program will provide the latest leadership concepts and challenge the current way of thinking.
Storytelling– It is a leader's responsibility to depict the future and inspire their people and others to get there. Storytelling is the perfect vehicle to share that vision by describing the now and laying out the dream of how a company will achieve its goals.
To see all our leadership programs, click here.
Learning & Development Services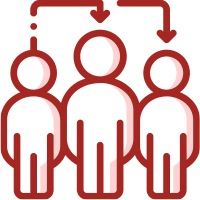 Leadership
Find out more about our specific programs and learning experiences from our offer.
Learn more